Italians Love to Eat
And they have an innate sense of hospitality. Their spontaneous warmth is one of the factors that contributes to the success of Italian restaurants all over the world. Food is prepared with care and attention. Good quality fresh, seasonal produce is regarded as essential and the natural flavour of food is never masked with complicated sauces. The culinary tradition of Italy is based on vegetables, cereals, fish and olive oil:
a healthy way of eating which appeals to modern tastes.
Today Italy enjoys comparative prosperity, but in the past large areas suffered under centuries of foreign rule, and hunger was an ever-present enemy.
The people learned to make the most of whatever ingredients were available and wild or home-grown vegetables, and bread often provided a complete meal. The traditional cooking of the poor, known as the cucina povera, used care and imagination to make simple ingredients festive. Expensive items like eggs and cheese were used sparingley, and vegetables, herbs and olive oil played the dominant role. In the southern region around Puglia, for example, round or square friselle were made from whole wheat flower or oats, are baked hard so that they would keep indefinitely. It was not unusual for the evening meal to be friselle dipped in water to soften them slightly, then heaped with chopped ripe tomatoes and good olive oil Pasta has become an international favourite, so much so that most households would have a packet of pasta lurking in the kitchen. Non-Italians tend to make a complete meal of pasta and salad. However in Italy today pasta is eaten as a first course, followed by meat or fish and a vegetable dish.
Often an appetiser or antipasto is served before the pasta and the meal is completed by
fresh fruit or a dessert, dolce. Some people even enjoy a plate of cheese before the dessert.
Visitors to Italy are often amazed by the quantity of food consumed in one meal and can
usually get no further than the pasta course.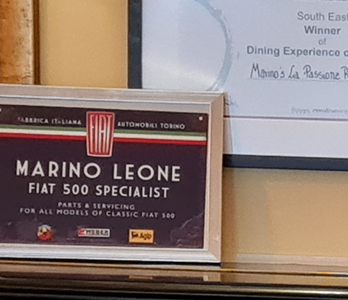 For years I was convinced that pasta was the only course worth eating in Italian restaurants because the meat and fish dishes seemed so predictable. It was after I discovered regional home cooking that I became truly enthusiastic about other courses and could lament the dearth of interesting main courses on restaurant menus. In the last few years, however, many chefs have painstakingly researched forgotten recipes, adapting them to suit modern tastes, so that today's menus offer a greater variety and pasta now has some stronger competition.
This collection of recipes represents some of my personal favourites most of which are not easy to find outside Italy.
The Italians have survived their troubled past by perfecting the art of arrangiarsi- adapting
themselves to the prevailing circumstances. If you cannot find a certain ingredient, improvise
and use what is available. The dish will taste different, but it will have your personal touch
and this too is part of the Italian tradition.
Buon Appetito